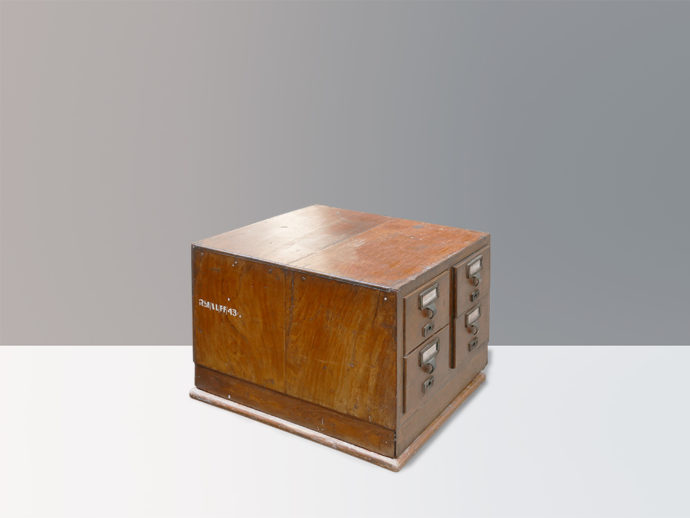 PJ-BOX
Box with 4 drawers and letters, ca.1958- 1963
Price:
on request
Dimensions:
ca. 420mm x 320mm x 420mm
Materials:
Teak massiv
Details:
That is a very heavy chest with beautiful letter from an administration building. It is a historical piece and a part of the custom made objects they designed for administration uses. It has a very strong patina and beautiful proportions. That is a unique piece and great to put on a table or console.
Pierre Jeanneret Box
is a handmade and vintage piece of furniture. Swiss architect Pierre Jeanneret is the designer of this masterpiece. The Pierre Jeanneret box is a classic chest for collective purpose. The design dates back to 1958-63 which makes it timeless. Jeanneret was a visionary of modern architecture. He worked with his cousin Le Corbusier for a long time. They gave architecture a new perception. Their idea was combining Indian and modern designing techniques. He worked with Charlotte Perriand for building antique furniture. Pierre Jeanneret made buildings and furniture. He experimented with minimal designs. The architect preferred aesthetic furniture with a modern look.
The Design
The Pierre Jeanneret box is available in Chandigarh for sale. This box is accessible through online portals. It easy for people to add vintage touch to their décor with this box. The Pierre Jeanneret Box is a chest designed with beautiful letters. Teak and rosewood are main components of the box. This composition gives the box a tough and hardened surface. The Pierre Jeanneret box would add beauty to your desk.
The wood makes the box bug-resistant and sustainable to humid conditions. This box is a historical piece of furniture. It has a plain outer structure supported by a thick wooden slate. This attribute adds convenience for people in transferring it. The chest has four drawers designed and customized by Jeanneret. Aluminum locks are attached to drawers for security purpose.
The Pierre Jeanneret Box is modernized artifact furniture suitable for administrative purposes. This chest has perfectly polished teakwood giving the box an outshine appearance. The box is designed proportionately by the cousin duo Pierre Jeanneret and Le Corbusier. The superiority of this furniture is defined by its evergreen form. This adds beauty to the boring administrative decoration in buildings.
The box is furnished with a grainy wooden texture to its body which gives it a rustic look. The Pierre Jeanneret box has a beveled and chamfered touch making it swankier in fashion. The piece of furniture is a vintage jewel. It fulfills to treasure all the confidential and valuable items in it. This box, custom designed by Jeanneret can be purchased in Chandigarh for sale. It is suitable for all the retro lovers.
Pierre Jeanneret chest from Chandigarh. Fashion and design are inspirations for all artists. Also finally one of the artefacts we love. Design in Paris makes so much sense to us. We really need that time aspect of design. That chest of Pierre Jeanneret is a great teak and cane piece. It is done to impress. It should be here. So you can put the dirty laundry in it. Architectural pieces from Chandigarh are very rare. They are very nicely done. With brass it looks also great. Finally interior architects love it. Andy Warhol loved Le Corbusier. He travelled to Paris and also finally to London. The design is a contradiction of pleasure. Marina Abramovic is a famous artist. We sell design of her. Great collection of wood pieces. And Tom Strala too. Teak is a fantastic material. That is by Pierre Jeanneret and his sofa. Pierre Jeanneret furniture in best quality. Finally buy design furniture.