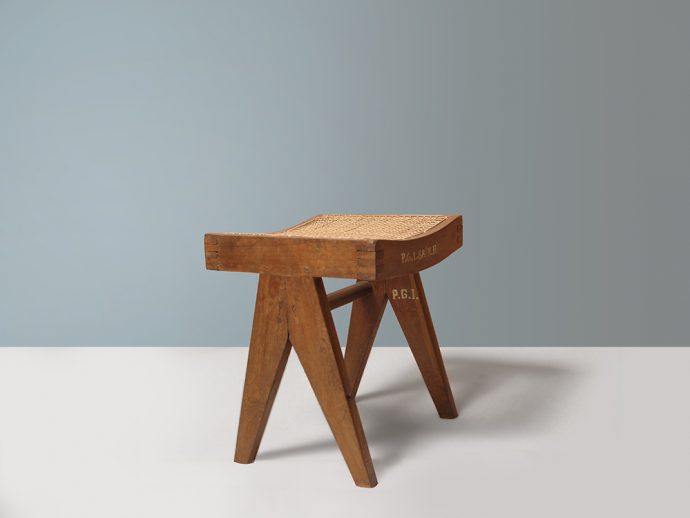 PJ-SI-34-A "CANED LOW STOOL"
Low stool in solid teak and braided canework., ca. 1955- 1956.
Price:
sold
Dimensions:
425mm(h) x 315mm x 390mm
Material:
Solid teak, cane
34 Stool Jeanneret
Pierre Jeanneret has an exclusive stool collection. One of the best pieces of the collection is this cane stool. The Pierre Jeanneret cane stool is rare furniture design. Jeanneret was a great architect and designer. He designed many buildings in Chandigarh with Corbusier. Le Corbusier who was his cousin worked with him for twenty years. They were an integral part of Chandigarh urban planning project. Pierre Jeanneret's believed in innovation. His designs reflected innovative ideas. This stool is a reflection of the beautiful vision of the designer. Jeanneret was a visionary of modern design.
This stool design dates back to the 1950s. Jeanneret created this design in 1955-56. The design originated in Chandigarh. Therefore, this Chandigarh cane stool is an antique. It is a vintage stool with minimal design. Pierre Jeanneret furniture cannot be found everywhere. Online portals offer furniture by Pierre Jeanneret for sale. There are three P! Galerie across the globe. These galleries provide the Chandigarh cane stool. This cane stool is available in P Galerie Zurich.
The Pierre Jeanneret cane stool is strong built furniture. The reason for its sturdiness is teak wood. Teak wood is an essential component of this stool. The teak wood adds strength to the Chandigarh cane stool. It also protects the stool from bugs and other infestations. This cane stool is suitable for all kind of weather. Especially those living in humid areas can use this stool. This is because teak protects it from humidity. The cane stool has braided cane work done on it. This beautifully carved cane work is its selling point. The cane work makes the seating light and comfortable. Jeanneret specialized in using light materials for furniture. This is an example of the same.
This Pierre Jeanneret cane stool has two pairs of wooden legs. The legs are A-shaped. They lay a strong foundation for the stool. Jeanneret's stool design includes a crossbar between the two legs. This crossbar enables the weight-bearing capacity of the cane stool. Therefore, this Chandigarh cane stool is suitable for everyone. The surface of the stool is rectangular with a wooden frame. The frame holds the braided cane work. This makes the cane stool look unique. The Pierre Jeanneret cane stool portrays modern and old-fashioned furniture. Having this stool in your space would highlight the space.
Chandigarh. 34 Stool Pierre Jeanneret designed Banch, banc Chandigarh PJ-SI-34-A . It is a fantastic object of design. The history of architecture let in India making a capital, where capitol and all great furniture objects got offered. We sell that kind of art in our P! galerie. That is our famous art exhibition like Miami Basel. So we try the best and that's it. Stool Jeanneret PJ-SI-34-A made of teak and tubular mesh. It is a piece of furniture with a piece of culture. The shape and the material combine. The brown wood and the reduced shape stand for a classic of modernity. These qualities are rare. The stool Jeanneret is unique and unfortunately already sold. Together with Charlotte Perriand, he created a collection of beautiful furniture in 1960. Life in Chandigarh was good. In India there would be a moment of departure. Design and sale of artifacts of the modern age bring an architecture that appeals to the architect. This world of style and world is significant. Tables and stools are important for every interior. Ingenious furniture and a wood that tells a story with the patina. These things make Jeanneret a collector's item. The auction houses and the museums are therefore striving to create a world of Berlin, Vienna and Munich. There is the sale in our P! Gallery. This is an exhibition history that is there. Exhibits of the Indian world. Punjab had a good university. These factors make design to art and us to gallery owners. These products 34 stool are rare and expensive.