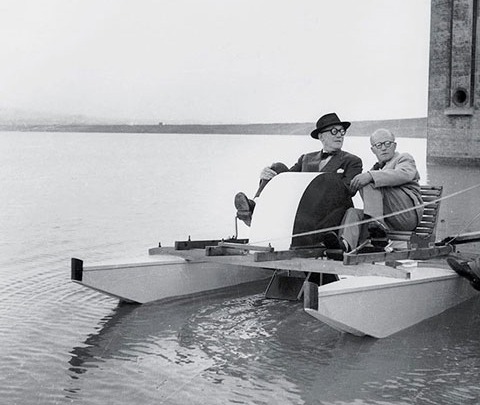 Pierre Jeanneret and Chandigarh
Pierre Jeanneret was born in 1896 and opened an atelier with his cousin Edouard Jeanneret (Le Corbusier). Together they designed the most famous buildings of the 20th century like the Villa Savoye, the house Clarté or the Pavillon Suisse in Paris. This productive cooperation ended with the Second World War, when Le Corbusier decided to support the Vichy regime and Pierre decided to work with the Résistance.
In 1955 they united again for the new capital Chandigarh in India and started to design a visionary city. Le Corbusier soon decided to leave the project to others, but Pierre stayed there for another 15 years and worked as Chief architect on the architecture and furniture design. Far away from Le Corbusier and the European modernity Pierre Jeanneret found the opportunity to make experiments with low-budget materials and to develop technique and architectural expression, which fit to India.
He mixed the modern spirit of the western World with the rural spirit of the Indian craftsman's work, and created an archaic and modern language. He designed all details and created an iconic unity of landscape, architecture and furniture.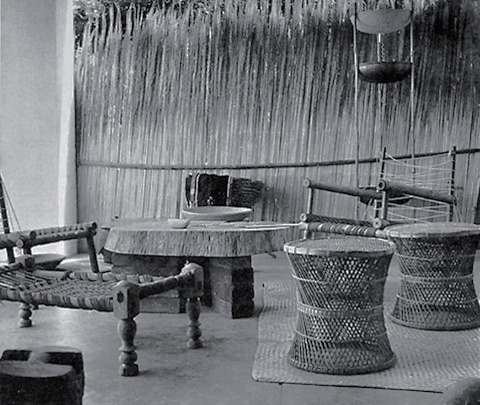 The character of the furniture
In 1955 India was low industrialised. So Pierre Jeanneret started to create a modern spirit by adapting his design to Indian, traditional handcraft. He worked with local materials like teak and cane and used simple technologies to produce the furniture. It turned out to be an adventurous challenge, where the simplicity created a new expression of modernity. But his design didn't arise out of a hardship. It was the joy of using simple materials and to check what all was possible. He designed many prototypes and he loved to create demountable and light furniture pieces. So we got intelligent items, showing the playful virtuosity, made with simple means. But more important was for him to celebrate the complexitiy of an asketic life.
His design approach was less formal than ideological, trying to find the idea of freedom, luck, joy, making them part of life. So today still that furniture pieces express an essential and eternal depth, which are touching us deeply.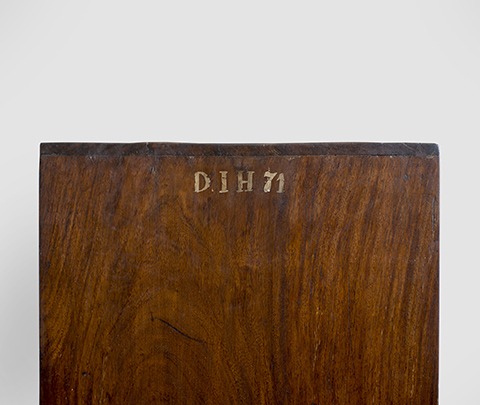 Authenticity
You are buying a valuable collector piece, so it's not all about shape. Authenticity is an essential component. So, it's worth picking a gallery with a wealth of experience and an impeccable reputation.
There are more and more completely fake or half-authentic objects offered. Some wooden parts are new, done by old wooden beams or taken from other damaged, authentic Chandigarh objects. We don't offer that. We want that each wooden part is originally from that Mid-Century piece. There are even some Chandigarh objects, which are not in catalogs, but from Chandigarh. They are perhaps authentic, but may not be designed by Pierre Jeanneret or Le Corbusier. So, we don't offer that either. We take our business very seriously. More information.
Pierre jeanneret from Chandigarh and Le Corbusier were born in La Chaux-de-Fonds, Switzerland. He died in 1965 in Roquebrune, France. Actually his real name was Charles-Edouard Jeanneret-Gris. He was an also architect, theorist of architecture, draftsman, sculptor and furniture designer. Charlotte Perriand did a great forme libre table for that team. Shee was one of the most influential architects of the twentieth century, whose new ideas have also been controversial and some are still controversial until now. He got his pseudonym Le Corbusier, based on the name of his great-grandmother Le corbusier. Also a raven for the first time in the newspaper L'Esprit new 1920.
Pierre Jeanneret chair und Le Corbusier stool are finally architecture. The chair is an iconic piece of design.
Charles Jeanneret came from a long-established and widely ramified family, their origins – but not proven – origins back to the some areas. The addition Gris distinguishes its family branch from the Jeanneret-Grieurin. His father was an enameller of watch. He cases with his own workshop in La Chaux-de-Fonds: It is also the former center of the Swiss watch industry. His mother Marie-Charlotte-Amelie was a musician.
So in 1900 he began an apprenticeship finally as engraver and engraver. He did that at the École d'Art School of Arts in La Chaux-de-Fonds. Under the influence of his teacher Charles L'Éplattenier, he turned to painting and architecture, initially leaning more towards the former. Artistically, he was at that time heavily influenced by the Arts and Crafts Movement and Art Nouveau. That was a great time for them. Our gallery sells just masterpieces of great design. Furniture and chairs are also easy to sell. That has design made a chair.
pierre jeanneret chair and charlotte perriand table
Pierre Jeanneret furnitureThe history of that architectural design pieces is quit impressive. Finally that pieces has been created for a complete architectural vision. That made the remarkable project really rare. Together with Le Corbusier a very rare opportunity has got its expression.