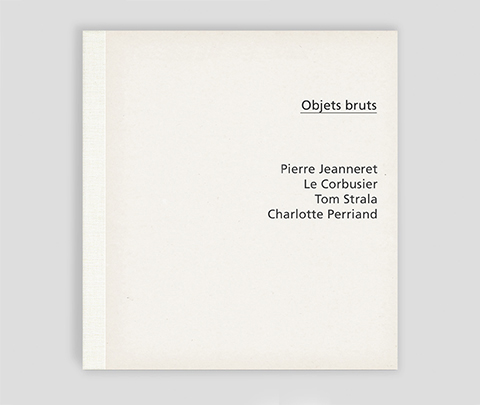 "OBJETS BRUTS" Catalogue #10
The vast majority of our design objects exhibit our focus on raw art. The search for the essence, where design is more than just decoration, is at the centre of such works. Objects by Pierre Jeanneret, Charlotte Perriand, Tom Strala, Le Corbusier, Lina Bo Bardi, or Jean Prouvé are fascinating as artefacts per se and move not only our intellects but also our individual archaic sensibilities.
Details:
Sale catalogue, 122 pages, in English, with reproductions of the current objects and with images of Chandigarh, up-dated twice a year, free of charge, available only as a PDF (inquire here ).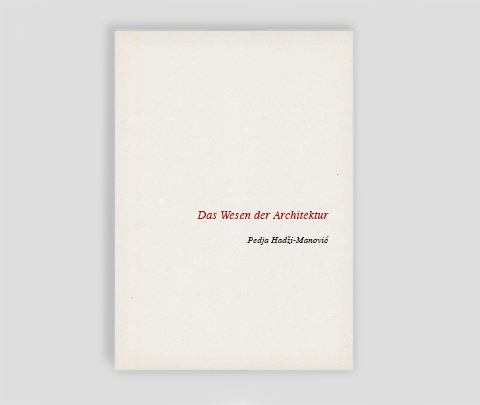 "The Essence of Architecture"
A critical evaluation of modern architecture. The very question as to what establishes quality in a work reveals the false focus of our scientifically oriented perspective. Architecture is art, and it acts as a medium, as a portal to another world in which we wish to see our own existence as individuals mirrored. Most of this world takes effect in the unconscious. Architecture is well aware of its cultic component: wherever it expresses our humanity, along with all our yearnings and fears, it enriches us. The instincts that a building can address, the awareness of one's own impermanence, the belief in truth, or the yearning for ideals are of far greater importance than the aesthetic questions as to proportions or materials. This book criticizes our dogmatic discourse and our failure to search for the essential depth in architecture.
Details:
Theoretical book, 132 pages, in German, with black-and-white illustrations, to be published in late 2017, ca. 34 Euros.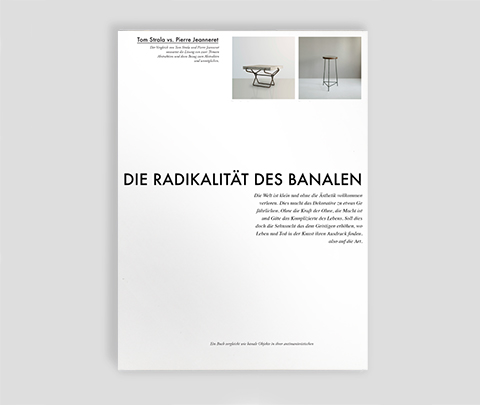 "The Radicalism of Banality"
Tom Strala vs. Pierre Jeanneret
A comparison of two artists. Their archetypal works show the search for what is essential. With their timeless artefacts, they ignore trends and the short-lived appeal of sensationalism. They love the radicalism of naked expression, and manage to coax the unnoticed depth out of that which is banal and raw. The pieces of furniture, far from making use of mannerist ploys, become concrete images of worldviews and existential sensations. Here we have neither the aesthetics of functionality nor objects that offer hiding to intellectualized rhetoric: here, design becomes art.
Details:
Photography, 44 pages, in English/German, with 26 photographs and 3 texts, to be published in 2017, ca. 32 Euros.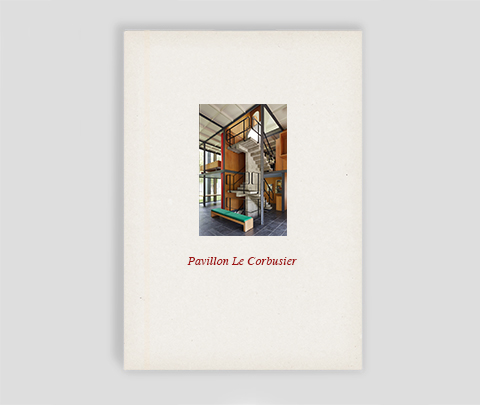 The Le Corbusier Pavilion, Zurich
A volume of photographs of Le Corbusier's last work, the Heidi Weber House. Though the building is of international importance it has received little attention. The well-known photographer Lorenz Cugini has captured the complex spatial constellation, giving it his own personal interpretation, creating images that do justice to this consummate architecture. The objectivist perspective makes possible a multi-layered reading, in which the viewer can open up either to the "promenade architecturale," to the complex configuration of the rooms, or to the shrewd detail solutions. The photo-book approaches the work intuitively and avoids detracting from the poetic nature of the volume with too much background information. Here we become aware that architecture functions as fantasy and thus nourishes our intellect as well as the world of our sensations.
Details:
Photography book, 44 pages, in English/German, with 16 photographs and 3 texts, to be published in 2017, ca. 32 Euros, limited edition signed by the photographer 240 Euros.