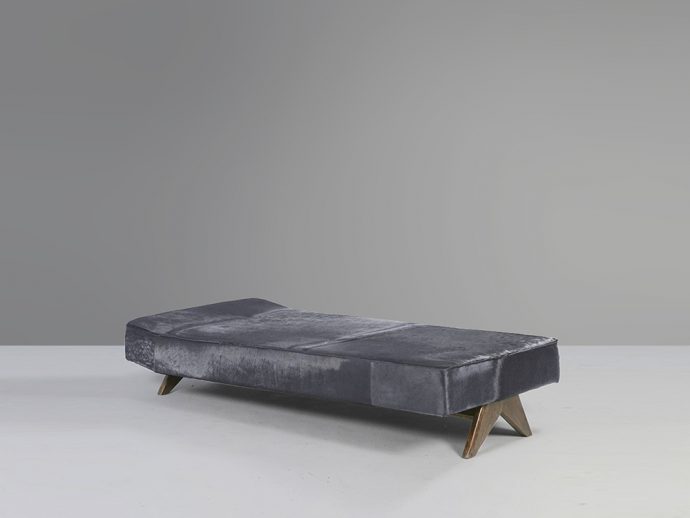 PJ-L-12-A "DAYBED"
Daybed with compass legs, 1957-1958. Used in administration buildings and private homes
Price:
on request
Dimensions:
1950mm x 800mm x 350mm
Materials:
Solid teak and grey foal
Daybed Pierre Jeanneret
Daybed Pierre Jeanneret for Chandigarh. A great piece of furniture from Chandigarh. How deep and beautiful is the PJ-L-12-A? A upholstered bed on which the shapes of the piece of furniture stand out. Rare colors from India can make Punjab appear. Sleeping is a relaxing story of relaxation. Under the hot sun of Chandigarh the desire to recover is born. Furniture created by Mies van der Rohe and the Bauhaus are themes of life, according to La Tourette of Le Corbusier and Charlotte Perriand. This life has a magical side. It is the formal beauty. The beautiful form and its fascination. The water and architecture fit together. An art of the gallery, which shows everything in London and New York or Los Angeles. The leather is tanned. PJ-L-12-A linen is also there and white with the wood to fit well together. The High Court in Punjab is under Unesco protection. This is a theme that I like. Furnishing an apartment with carpets and kitchens. The living quarters become cozy. A world of colors and curtains may seem important and bring Pierre Jeanneret to 1960.
daybed of Pierre Jeanneret