PJ-SI-59-A KANGAROO CHAIR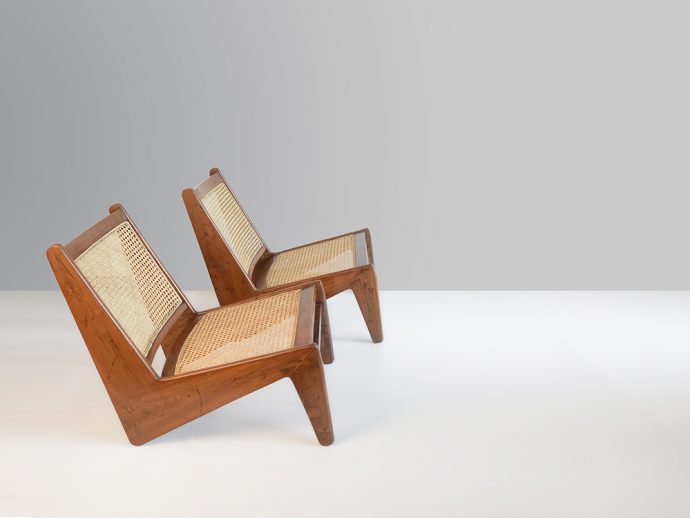 PJ-SI-59-A "EASY CHAIR KANGOROO
Low caned armless easy chair, called kangaroo chair, 1955. Rich patina, in perfect condition.
Price
on request
Dimensions:
660mm x 560mm x 710mm
Material:
Solid Teak, Cane
kangaroo chair pierre jeanneret
kangaroo chair
Kangaroo chair is a low easy chair. So Pierre Jeanneret and Le Corbusier were here and worked in Chandigarh. The designed fantastic furniture for houses and administration buildings. The made the objects in teak and in sisso wood. India got important for artists and for design fans. Auction houses like Wright20 and Sotheby's love that piece. It has been done for Chandigarh and is great looking. Famous shape and original sold by Galerie P! A seat with teak, rosewood. Sisso or cane is looking great. Designer furniture of high value. Le Corbusier came to India to give Punjab a new capitol. Next to the mountains they have found it and build an ideal architecture. With architectural care, they make all that great stools, desks, file racks. That in all different woods. Alwo we are selling here that pieces of design and fashion. You can buy them in the P! Galerie. We sell that art gallery and you can by that seats from architectural beauty. The Offering of design is so important. Reflection society on a wonderful way. Low seat with good proportions. Check in all the Museums like the Moma. A fantastic piece of furniture from Switzerland. Finally we are in Zurich. Also it is very rare to get to buy.
Chair