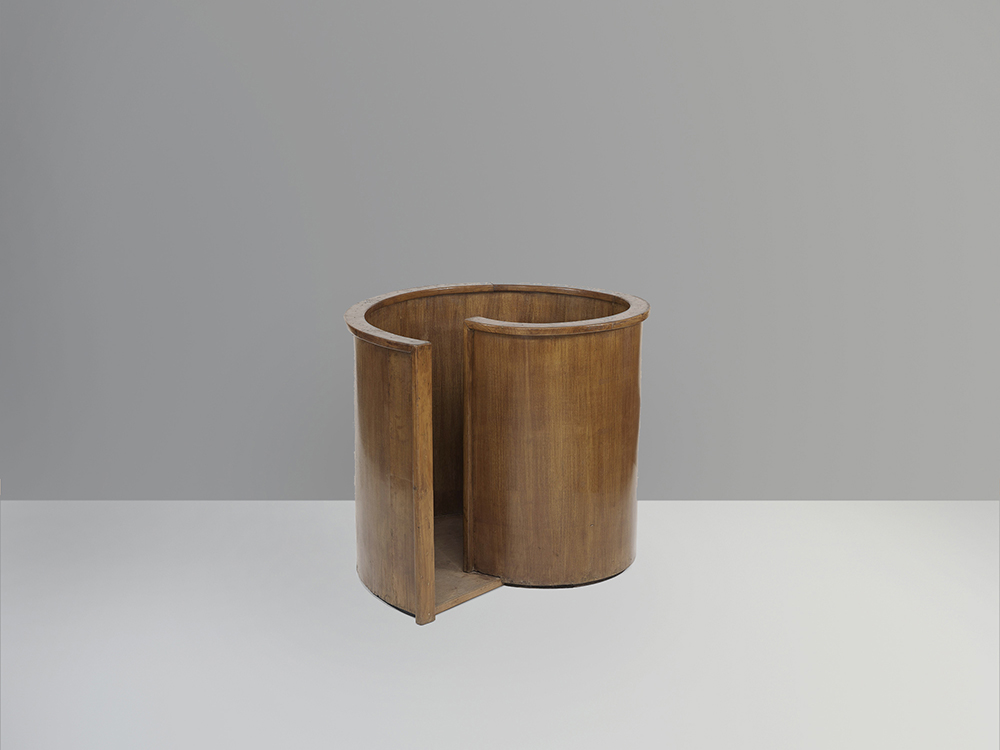 LC-ACCUSED CABIN
Rare and important witness box of the High Court of Chandigarh, 1955
Price:
on request
Dimensions:
1440mm x 1190mm x (H)1170mm
Materials:
Teak massiv and veneer
Stool Strala Kalahock
The Pierre Jeanneret accused cabin is a rare artifact. It is similar to the witness box used in the high courts. This beautiful designed accused cabin is from Chandigarh. Pierre Jeanneret took inspiration from the High court of Chandigarh. This High court Chandigarh furniture is a unique shaped design. The design itself is so appealing for a person to buy it. Pierre Jeanneret high court witness box is one iconic furniture piece. Jeanneret was an expert of innovative designs. His expertise reflects in this P gallery furniture.
Pierre Jeanneret was a great architect and designer. Jeanneret and his cousin Le Corbusier worked for 20 years. The duo built various buildings and furniture pieces. The two experts responsible for Chandigarh urban planning were these cousins. For furniture, these two took inspiration from government building furniture. The furniture used in Chandigarh had a rustic look. The designers added their skills to the furniture. This made the high court Chandigarh furniture look modern and minimal. The Pierre Jeanneret High court box is a masterpiece of the cousin duo.
This accused cabin is a solid piece of furniture. It is composed of massive teak wood. The teak wood adds strength to the furniture. Veneer plywood is used for building this Pierre Jeanneret high court box. These components make the furniture bug resistant. It also protects it from other infestations. The witness box has a unique shape. It is not like a usual square witness box. The shape of this Pierre Jeanneret accused cabin is curved. The curvature of the furniture distinguishes it from others. This P-gallery furniture also has a small opening to it.
The Pierre Jeanneret High court box is an unusual witness box. There is a blend of modern and Indian culture in his furniture. The high court Chandigarh furniture is an inspiration taken by the designers. They have redesigned the original idea of the witness box. The Pierre Jeanneret accused cabin is a creative piece. Pierre Jeanneret and Le Corbusier are visionary in modern architecture. Their designs show the efforts put in to build the furniture. This Pierre Jeanneret high court witness box is a rare collectible. It can add a vintage and royal touch to any corner of the house.