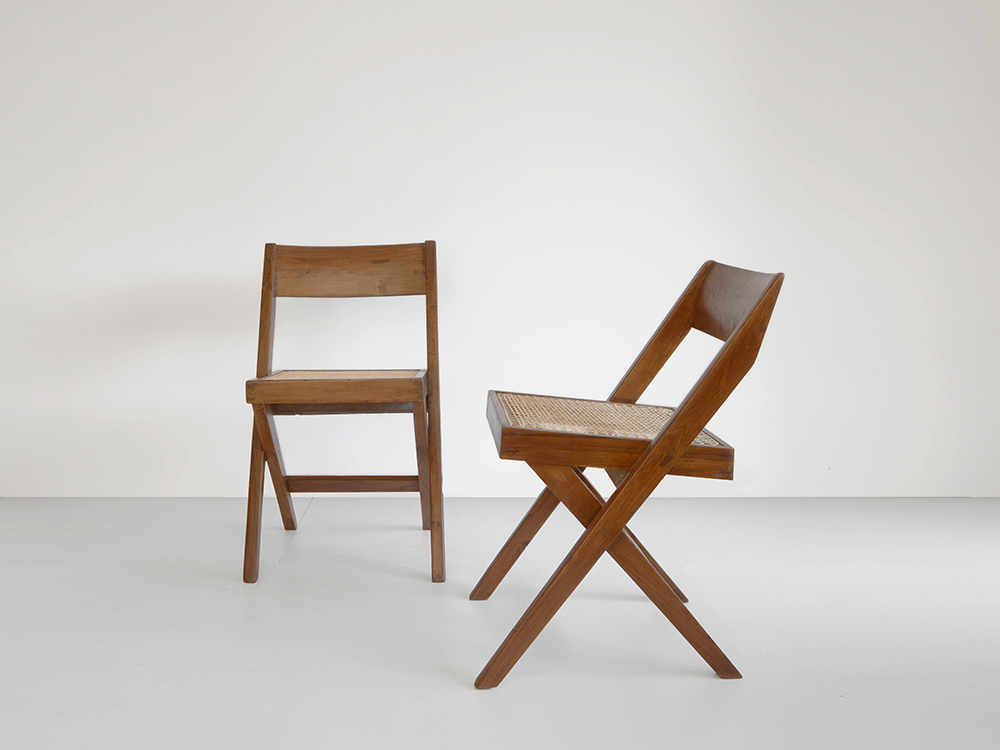 PJ-SI-51-A "Library chair"
Chair, 1959-1960. Designed for the University Library and the High Court.
Price
on request
Dimensions:
760mm x 460mm x 420mm
Material:
Solid Teak, Cane
Library Chair jeanneret
The library chair of Jeanneret and his qualities. He is beautiful in form. From teak and cane, it is a folding chair. Formally the library shaped, it can make a good architecture. Life in India is dominated by concrete buildings. This furniture design and conversions makes beautiful interiors. An exclusive selection of design furniture here is the exciting. Teak is a wood with a warm color. teak chairs and wooden furniture were important in Chandigarh. The use of design in everyday life makes the world more beautiful. The modern forms and abstract lines reacted always exciting when Jeanneret. The desire for interior design makes life in the Punjab well. The P! Galerie offers these furniture. The cane is authentic. The folding of this shape makes this seat great. Leather seats and red or green are often used. Charlotte Perriand was here too, and made such famous metal furniture. The MOMA Museum and the Guggenheim Museum exhibited these objects. Expensive and precious things has an abstract history of art history. La

chair
Pierre Jeanneret library chair is one of the traditional designs of India. Pierre Jeanneret was a Swiss architect and painter. He had collaborated with the famous Le Corbusier. Le Corbusier was his mentor for life. Pierre Jeanneret experimented with minimal designs. He was well known for designing a chair with no fasteners. Besides, it was the cousins' motive to make the furniture look simple yet classic. Together, they had designed many buildings. They also reformed the furniture design. The teak chairs from India are known for their conventional and durable structure.
Design
This Chandigarh library chair is a basic design for comfortable seating. Solid teak is used to make this original library chair, it is specially designed for the University library. Also, a perfect Pierre Jeanneret library chair for use in High Court. The library chair is collapsible. It could be folded at its hinges and stored accordingly. 
This Pierre Jeanneret chair's seat is made up of net. The net of the seat is a pattern of criss-cross bands. The cane bands are used for this purpose. The material provides a cushioning attribute. Also, it avoids sagging due to overuse. It is thus a long-lasting product. Therefore, it makes a perfect chair for the library's purpose. The chair does not have armrest. This enables a sitter to arrange the body at will. 
The back support is at an appropriate length. This provides a suitable structure. The comfortable structure is very significant for reading. And also, the same is essential for long hours of work in the High Court. The solid teak gives strength to the construction. The non-breaking material can easily withstand the weight.
Why should I buy it?
The polished wood lends a modest appearance to this Chandigarh library chair. The wood avoids insect attack. Also, it is not prone to fungus accumulation. The collapsible attribute is a great way to adjust this original library chair. Sitting for long hours on this library chair will not create discomfort. Being without armrest provides a free movement of the legs. This chair is a classic piece of furniture. Adorning a corner with a couple of few is a great idea. The rooms will look spacious due to its moderate size.