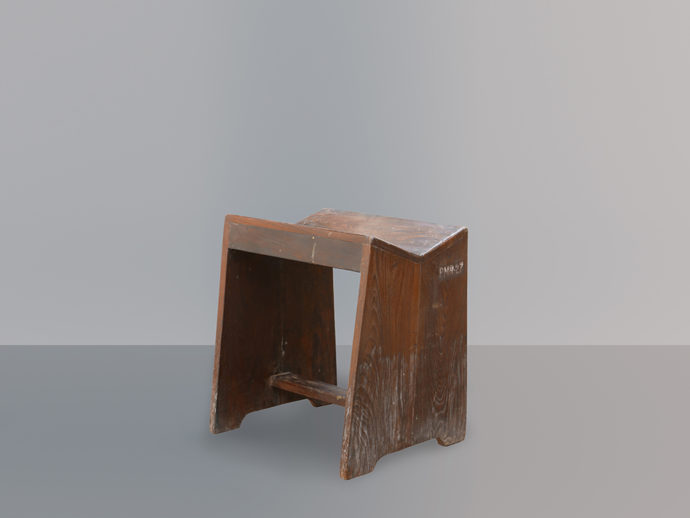 PJ-SI-68-A "SEWING STOOL"
Low stool in solid rosewood with letters, ca. 1955- 1956.
Price:
on request
Dimensions:
300mm(h) x 460mm x 410mm
Material:
Solid rosewood
rare Stool Jeanneret
The Pierre Jeanneret sewing stool is a unique stool. Pierre Jeanneret designed this mid-century stool. This man was an amazing architect and designer. His designs are innovative and practical. Pierre Jeanneret worked with his cousin Le Corbusier for twenty years. They built numerous buildings and furniture designs. This sewing stool is a creation of these artists. The sewing stool design dates back to 1955-56. This makes the stool an antique piece of furniture. The Pierre Jeanneret online portal provides this vintage stool for sale.
The Pierre Jeanneret sewing stool is a singular furniture artifact. The design of the stool is classic and minimal. Jeanneret mixed modern and Indian elements in his designs. This made his furniture designs stand out from others. The sewing stool is made of solid rosewood. The rosewood ensures stability of this rare stool for sale. It protects the rosewood stool from bugs and infestations. This low sewing stool increases the convenience of using the stool. This mid-century stool is a timeless furniture piece.
The Pierre Jeanneret sewing stool has a triangular seating. Such an arrangement can allow two people to easily sit on it. The triangular design ensures comfortable seating. The rosewood stool has slated wooden legs. This structure makes the sewing stool strong. The stool equips one crossbar at the base. This crossbar supports the legs of the stool. It also allows the user to rest their legs on it. This vintage stool has beautifully written letters on it.
The Pierre Jeanneret sewing stool has a compact design. Jeanneret and his cousin made a well-thought design. Such stools are not seen much anywhere. The sewing stool is simple and elegant. It adds convenience and comfort to your house. The sewing stool is a perfect accessory for your home. It is easy to move and use. This furniture is originally inspired from Chandigarh government buildings. But now it is possessed by art and retro lovers.
Chandigarh. A very rare and wonderful chair. We sell that stool of Pierre Jeanneret in our gallery. Architecture, fashion and design love stools. They are finally so rare and comfortable. Design objects from art collections are great. So we should invest in stools by Pierre Jeanneret or also Charlotte Perriand. A smart gallery seller from Zurich is here. We offer you best authentic pieces of design. Rare mid century design in teak or also rosewood Pierre Jeanneret chair