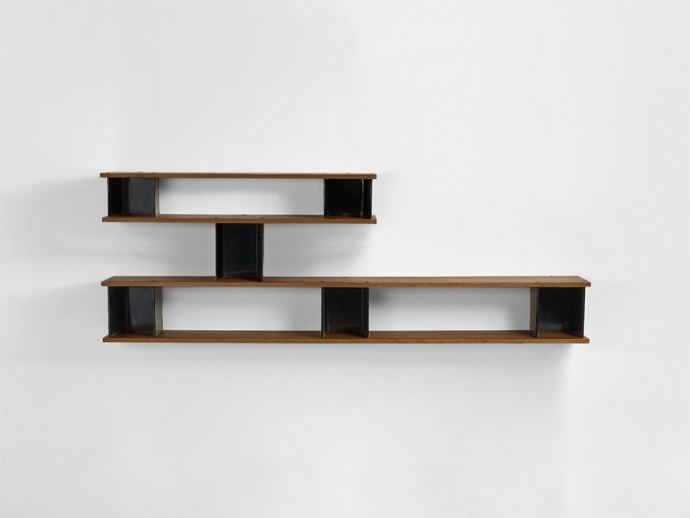 CP-NUAGE
壁掛け三段棚。パリのGalerie Steph Simonのため、1958年頃にNégroni及びMétal Meuble により、カンサド・プロジェクトの一環として制作された。
価格:
ご相談に応じます
寸法:
2500mm x 84mm x 33mm
素材:
マホガニー化粧合板、着色して曲げたスチール板、アルミ
The Charlotte Perriand nuage is modern storage design. Charlotte Perriand was an amazing designer. She designed furniture which shaped modern living in 20th century. Perriand tried and tested her designs. She got inspired by the machine age technology. That is why her designs use different metals. Charlotte Perriand used steel, glass and aluminum in most of her designs. At a young age, Perriand worked with Le Corbusier. This experience exposed her to the concept of blending styles. She adapted the combination of Indian and modern techniques. Her style reflects in her works just like the Charlotte Perriand nuage.
This nuage is a design of Charlotte Perriand and Le Corbusier. The Charlotte Perriand nuage is a wall mounted shelf with three levels. The layered structure of the nuage makes storage easy. Three levels of the shelf have enough space in between. This allows easy storage of books and other things. This file rack by Perriand improves convenience for storage. The Charlotte Perriand nuage has a smart design. The wall mounting attribute enables convenience for the user. The shelf is used for decoration purposes as well. This nuage's wall mounting occupies less floor space. So houses with compact floor space can store files in this rack.
The Charlotte Perriand nuage is manufactured by Négroni and Métal Mueble. The design of the furniture is simple. Charlotte Perriand and Le Corbusier have built en elegant furniture piece. The shelf is built from mahagony-veneered plywood. This plywood makes the nuage strong and durable. The side bars of the nuage are composed of aluminum. The cross bar joining the two sections of the shelf is a painted bent steel sheet. Using these elements for this furniture gives it a sleek look. The Charlotte Perriand nuage is stylish piece of furniture. The online portal of Pierre Jeanneret displays this shelf. This shelf by Charlotte Perriand is for sale on the online portals.  Add this nuage to your plain wall and see the difference. This nuage would give a stylish and classy look to your space.
シャルロット・ペリアン制作、壁掛け棚