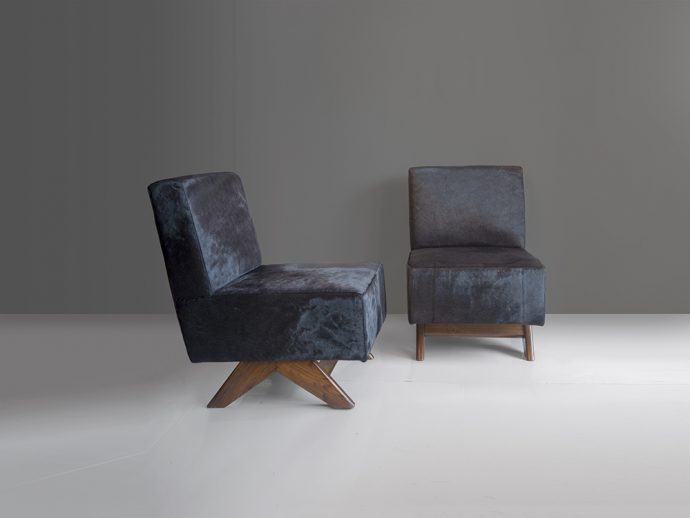 PJ-SI-36-A
コンパス状の脚部を持つソファ、1955年頃
価格:
ご相談に応じます
寸法:
500mm x 800mm x 750mm
素材:
チーク無垢材、革
The Pierre Jeanneret sofa chair is a huge and amazing collection. This armless easy chair from Chandigarh is a comfortable sofa chair. The designer behind this classy chair is Pierre Jeanneret. Pierre Jeanneret was a Swiss architect and designer. He created innovative designs for various spaces. He worked with his cousin Le Corbusier for twenty years. In these twenty years, they created some great architectural wonders. Most of those wonders are in India. The city of Chandigarh is the creation of these cousins. They built all the government buildings in Chandigarh. This was a part of the urban planning project of the city. They gained huge success and fame in the 20th century.
This authentic Chandigarh sofa easy chair is an outcome of their hard work. Jeanneret worked tremendously on his designs. He created some fascinating designs like this sofa chair. This pair of sofa chairs is a design of the 1950s. Though it is antique and old, it gives a modern look by its minimal features. Jeanneret used only a few materials for his designs. These materials were teak wood, cane, hides, and veneer. These materials are light-weight and have better reliability. This is why this pair of Chandigarh sofa is a rare designer furniture.
The Pierre Jeanneret sofa chairs are ideal for living spaces. They can fit in any standard size room as it is compact. This authentic Chandigarh sofa easy chair has a composition of teak wood and hides. The hides' upholstery is customizable according to the customer's needs. There are various color variants available in hiding upholstery. Colors like blue, black, brown, white and grey are available for upholstery. The thick upholstery adds cushioning for the sofa chair. The solid teak wood used for the chair adds sturdiness to the furniture. Teak wood is a ply that is resistant to bugs and other infestations. The teak wood is durable and strong. This makes the Chandigarh sofa long-lasting.
The Pierre Jeanneret sofa chairs are modern looking furniture. They have a sleek structure. The thickened and cushioned seating adds comfort for the user. The upholstered backrest and seating is a unique feature of sofa chairs. This chair has two pairs of teak legs. These wooden legs are V-shaped and compass-like. They lay a strong foundation for the armless easy chair from Chandigarh. Few art galleries across the globe conduct design auctions for this chair. Those interested can bid their prices on this sofa chair.
ソファ