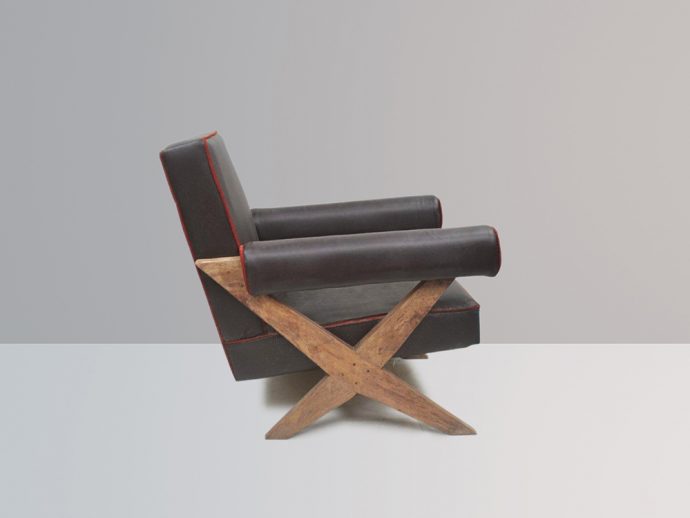 PJ-SI-48-A
布張りのイージーチェア、交差脚部、1960年頃
価格:
ご相談に応じます
寸法:
ca. 680mm x 720mm x (高さ)720mm
素材:
チーク無垢材、布
The Pierre Jeanneret sofa chair is an evergreen furniture piece. The X-legs chair is an upholstered armchair. This design dates back to 1960s. The Pierre Jeanneret X chair is antique furniture design. Jeanneret and Corbusier designed this beautiful piece of furniture. They took inspiration from Chandigarh government's furniture. This cousin duo believed in minimal and innovative designs. Together, they have built various buildings and furniture designs. The armchair with X legs is an example of their amazing work.  The Pierre Jeanneret sofa chair is rare furniture. But, it is displayed in various art galleries. The art gallery of Los Angeles has displayed this beautiful X chair.
The Pierre Jeanneret sofa chair is a modern-day design. This chair is composed of massive teak wood. The teak wood adds strength to the armchair. It helps resist bugs and other infestations. Teak wood furniture is best for humid areas. This is because it does not get spoilt over years of usage. The sofa chair has two wooden cross legs. The X- legs chair portrays strong foundation. Such X chair structure creates a triangular arrangement. This arrangement is a unique attribute of Jeanneret's furniture designs. Pierre Jeanneret has created a sturdy and durable armchair with X legs.
The sofa chair is a classic design. This chair is upholstered with cushions. The standard color used for upholstery is black. The black color adds elegance to the chair. The Chandigarh chair has originated in India. But, its minimal design and great appeal make it a great furniture piece. The Pierre Jeanneret sofa chair has a leaning cushioned back. This feature enhances the cinema experience of users. The armchair with X legs is low in height. The low height of the armchair makes it suitable for all. The X-legs chair has reliable arm support. This arm support is also upholstered with fabric. This arm support adds comfort for the user. The sofa chair is perfect furniture for the living room. Those thinking for redecorating their space should consider buying this X chair.
ピエール・ジャンヌレ制作、ローチェア