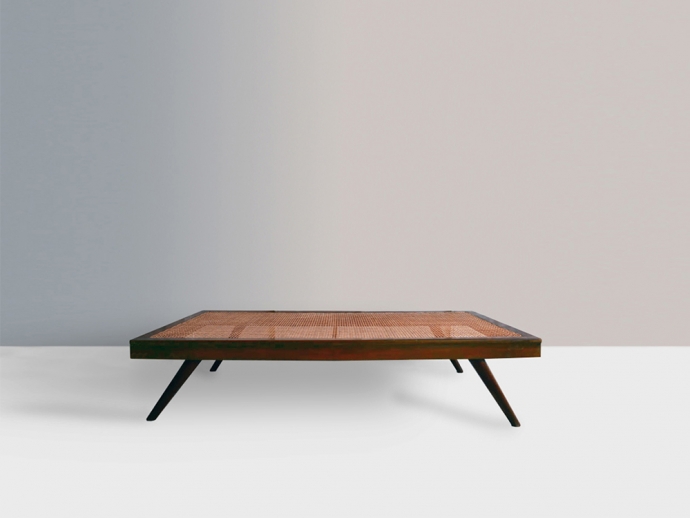 PJ-L-09-A
ラタンを使用した4本脚のデイベッド、1960年頃
価格:
ご相談に応じます
寸法:
380mm(高さ) x 1800mm x 920mm
素材:
チーク、ラタン
The Pierre Jeanneret teak table is a vintage dining table. It was built by famous designer Pierre Jeanneret. He made the original model between the year 1960-61. Jeanneret was a great architect as well. He worked with his cousin Le Corbusier for twenty years. They created artistic pieces together in India and across the world.
The Library table Pierre Jeanneret was made in Chandigarh. Jeanneret worked with Perriand for a time. They worked with the cane, teak, glass, and aluminum materials. Every model has a hint of India. He played with neutral colors and plain designs. The Chandigarh table also doubles as a coffee table. Their creations were rustic but had modern vibes at that time.
Design
Pierre Jeanneret conference table is for sale in Chandigarh. Buyers can also shop from authentic online websites. The table was created from solid teak. A thick coat of teak veneer is applied on the surface. Giving an extra sheen to the outer body. Pierre Jeanneret table is supported by four legs. The sleek legs jut outwards. This outward slant provides extra stability. The artists took great care in making the furniture. Cane and Burma teak used were in the table. The designs are minimal but modern. The Pierre Jeanneret teak table is humidity resistant. It is unaffected by pests and bugs. The wood quality is smooth and grainy. The grainy texture provides a certain warmth to the entire room.
Why Should You Buy?
The Library table Pierre Jeanneret is a retro treasure. An original collectible item. Suitable for your dining, study, or drawing-room. It is a piece of history. A genuine heritage item for daily use. Pierre Jeanneret conference table has a teapoy look. The frame is in the shape of a rectangle. Its old-world charm adds a classy vibe. It has multiple uses and is a décor essential. The Chandigarh table can be placed on the foyer.
It looks beautiful from all angles. The table is compact and easy to move around. It is a vintage custom-made model. Each item is rare, valuable and unique. The Pierre Jeanneret table has various designs built over time. Yet, this design is beautiful and timeless.
デイベッド、ラタン、ピエール・ジャンヌレ