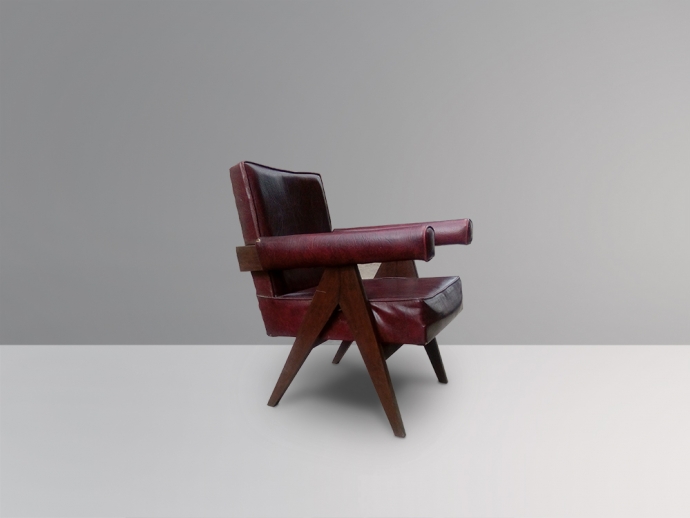 PJ-SI-32-C
布張りのイージーチェア、A型脚、1955年頃
価格:
ご相談に応じます
寸法:
ca. 660mm x 600mm x (高さ)800mm
素材:
チーク無垢材、布
The Le Corbusier easy chair is an authentic armchair. The design dates back to 1955, but the furniture still looks modern. Le Corbusier had designed this amazing chair. He was a renowned architect and designer. Le Corbusier took inspiration from Indian culture. One of the best examples is this Indian armchair. This antique chair is a limited series armchair. Le Corbusier and Pierre Jeanneret worked together. They created iconic buildings in the city of Chandigarh. The cousin duo created innovative and smart designs. The Le Corbusier easy chair is a rare furniture piece.
The Le Corbusier chair is an upholstered armchair. The upholstery is customizable as per the customer's needs. The design of the armchair has upgraded over the years. But still, it remains to be called the Chandigarh armchair. The armchair is a blend of modern and traditional design. This is what Le Corbusier specializes in creating. This Indian armchair is now available at various art galleries around the globe. The chair is currently also listed in the Pierre Jeanneret auction. So, furniture lovers can always grab this beautiful armchair.
The Design
The upholstered armchair is composed of solid teak wood. Massive teak wood helps the furniture from bugs. It also protects the armchair from other infestations. The chair has a cushioned structure. This adds to the comfort and warmth of seating. Each element of the chair has been well-thought and planned. Le Corbusier was a talented designer. Even today, his furniture designs are a symbol of class. The appearance of the Le Corbusier easy chair is old fashioned. But, it can be an accessory in your living space.
The Chandigarh armchair has a pair of wooden legs. The chair has A-shaped legs. This forms a triangular structure of the legs. Such a triangular arrangement of the legs builds a strong foundation. The Le Corbusier easy chair has good arm support. The arm support is upholstered. This provides rest for the arms. The upholstered armchair has many variants. Depending on the customer, the upholstery can be changed. This Indian armchair will serve as an attraction in your living space. So, all those looking to redecorate their houses can opt for this armchair.
スツール、ジャンヌレ、ラタンチェア