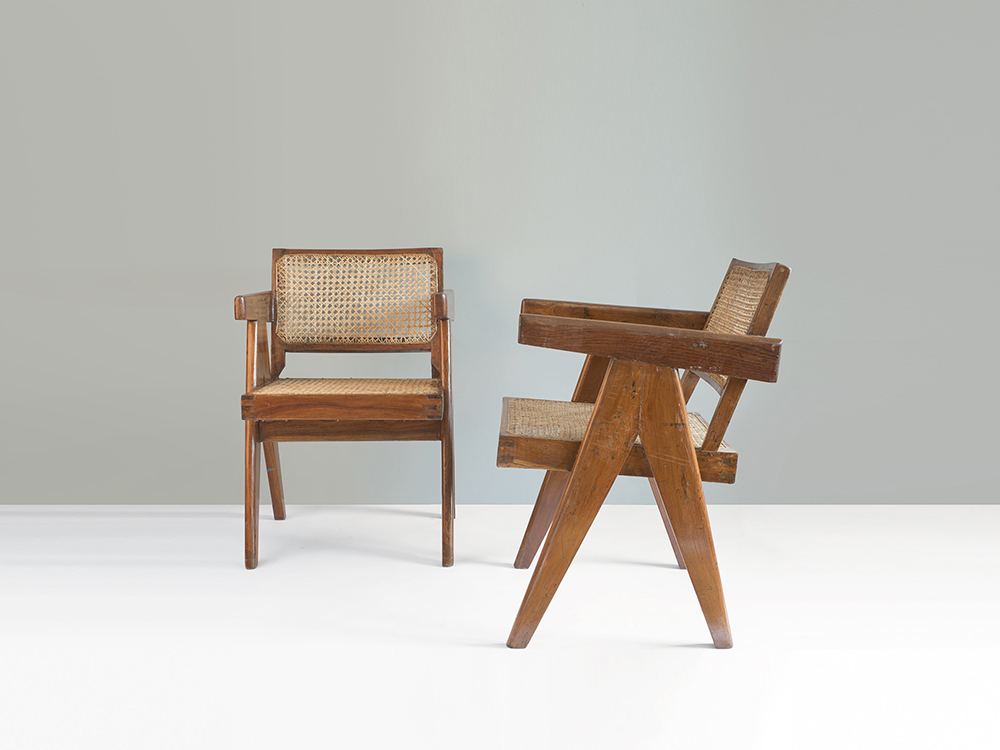 PJ-SI-28-B
Office Chair, 1955, with an incurved back attached to the seat. With straight or diamond pattern caning. Its expressive A-shaped legs are a specific signature element for Chandigarh items. It has a raw simplicity, embodying and expressing a nonchalance like no other chair. Each chair looks a bit different and that makes every chair to a unique piece. Some are thinner, lower, wider, darker, with wider or more dense caning, with more traces of use or less. Each chair has its own character and that makes PJ-S-28-A different to all the industrial design.
Price
on request
Dimensions:
510mm x 540mm x 740mm
Material:
Solid teak, cane
office cane chair
Office Cane chair has been designed by Pierre Jeanneret. Together with Le Corbusier. In the 1950es they created a vision of new living, where modernity and tradition came together. The chair is in teak and cane. Very rare on auctions to sell. With cushions sold in New York, Los Angeles and London. The spirit of India and modernity of Europe created a world, where archaic and modernity get an unity. Le Corbusier left soon the project and was looking for new challenges. Pierre Jeanneret continued to live in India and has got professor on the architecture faculty there. There he lived for 15 years, worked on the city and developed a big amount of great design. Seat of chairs as dining chair or as office object. A piece of history. Extraordinary beauty and fitting to tables and desks. Fantastic design and furniture of chairs with a impressive character.
The designer created some beautiful chair designs. They are a recreation of the Chandigarh chairs. Pierre Jeanneret was a Swiss architect. He gained huge fame and success from his work. He worked on many projects across the globe. The Chandigarh project gave him fame in India. He worked with his cousin Le Corbusier for it. They both built beautiful Chandigarh government buildings. They took inspiration from its furniture and recreated it. Their recreation turned out to be fruitful. This recreated authentic office chair from Chandigarh became unique. This Pierre Jeanneret V chair is a rare designer furniture from the 20th century.
The Design
This original Pierre Jeanneret V chair is vintage furniture. The look and feel of the chair make it retro. The retro lovers would love Pierre Jeanneret office cane chair. This chair is now available for sale. A few art galleries have office cane chairs for sale. There are certain art museums that showcase this beautiful chair. All the galleries conduct design auctions for the sale of the chair. Those interested in bidding their prices on office chairs from Chandigarh. This authentic office chair from Chandigarh dates back to 1955. It is 20th century furniture that is durable and reliable.
The original Pierre Jeanneret V chair has innovative components. The composition of the chair is solid teak and cane work. Solid Teak is a uniform element in Jeanneret's designs. This is because he used lighter materials in his designs. Teak is comparatively light and strong. The features of teak wood make it reliable plywood. It protects the furniture from infestations. Cane is another element used by Jeanneret. Cane is a light material and looks good for beautifying the chair. The Pierre Jeanneret V chair has cane work done on seat and backrest.
The Pierre Jeanneret office cane chair is structurally strong furniture. It looks sturdy and stands strong. This Chandigarh chair has a wooden structure with braided cane work. The original Pierre Jeanneret V chair has two pairs of legs. These legs are compass type and in a V shape. They form a triangle with the floor. Such a triangular arrangement lays a strong foundation in architecture. The thickened circular armrest is good for arm support. The incurved cane work backrest adds comfort to the chair. This chair is ideal for offices. It makes working easy and comfortable.