PJ-TA-04-A "BOOMERANG TABLE"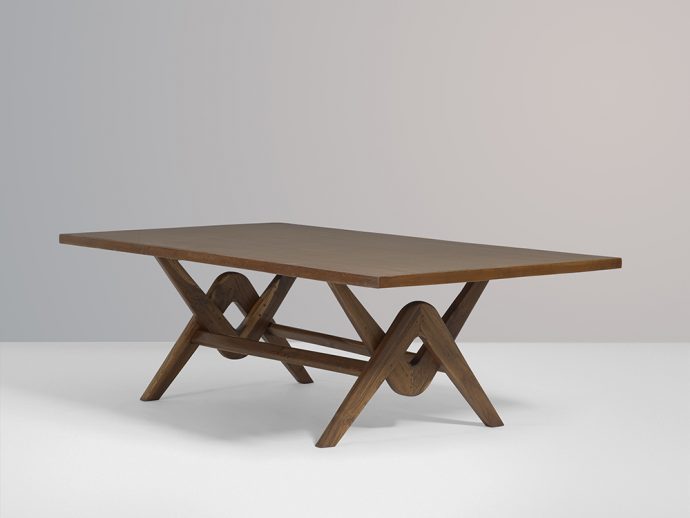 PJ-TAT-14-A "BOOMERANG TABLE"
「ブーメラン・テーブル」として知られる、非常に珍しいテーブル。厚い正方形の合板の天板が4本の垂直なテイパードレッグの上に乗っている。1963年頃
価格:
売却済
寸法:
710mm x 1210mm x 2430mm
素材:
チーク無垢材、厚いチーク合板
Pierre Jeanneret Boomerang table is a rare furniture piece. The boomerang table is the highlight of Jeanneret's table collection. This is an antique design. The Corbusier Boomerang table dates back to 1963. He started off his career in Chandigarh, India. In a few years, he became a great designer and architect. His designs were innovative and unique which made him stand out. His cousin, Le Corbusier was a great architect too. The cousins created numerous designs and climbed the wall of fame. The outcome of their hard work is evident in their furniture designs. This Chandigarh Boomerang table is minimal and beautiful.
The boomerang table is an effort of Jeanneret and Corbusier. This authentic Corbusier table is remarkable. It is suitable for all purposes like office, dining, etc. The design of the table is rare making it an antique. These furniture designs are not available online or in any store. Only a few art galleries in the world have this table. For selling this boomerang table, art galleries hold auctions. All the art and retro lovers bid their prices in the design auctions. The Pierre Jeanneret Boomerang table is furniture with sleek attributes.
The authentic Corbusier table uses lighter materials in its design. Pierre Jeanneret was a designer who recreated furniture. His recreations used lighter materials like teak wood and cane. This boomerang table uses solid teak wood. Solid teak wood is the main component of this table. Jeanneret used teak because it is resistant and strong. It prevents rusting, tearing, and gives protection from infestations. Along with teak wood, veneer is also used. The veneer top surface of the Corbusier Boomerang table is smooth. Such smooth texture adds to the sleek design by Jeanneret.
The most unique feature about this Pierre Jeanneret Boomerang table is its structure. It is a well- structured furniture piece. The two pairs of wooden legs are shaped in boomerang. This is the reason behind its name. The wooden boomerang legs have a normal and upside-down boomerang. These adjoining boomerangs form a strong arrangement. This increases the weight-bearing capacity of the table. The solid top surface has a smooth texture. The thickness of the top surface makes the Chandigarh Boomerang table sturdy. You can check out this product and buy it add class to your home.
ピエール・ジャンヌレが チャンディーガルのためにデザインした、素晴らしいデザインの非常に貴重なテーブル