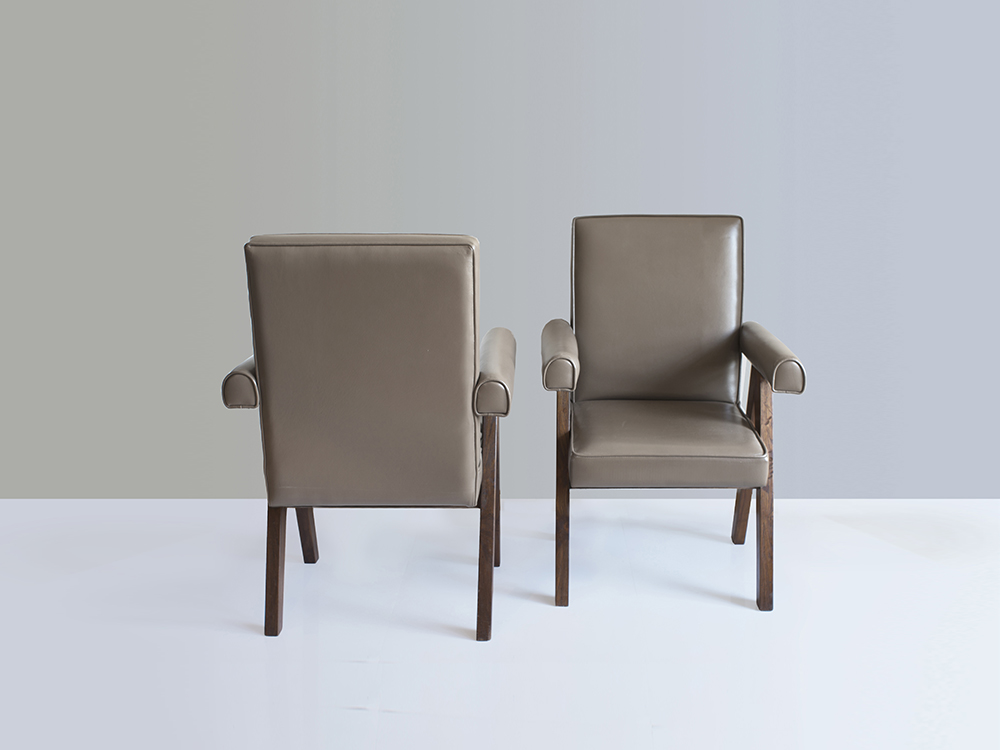 PJ-SI-30-A
Armchair, 1953, 1954, for Assembly, High Court and other administrative buildings.
Price:
on request
Dimensions:
560mm x 550mm x 850mm 22 in x 22.6in x 33.5in
Material:
Solid teak, black leather
Committee Chair has been designed for Chandigarh. A fantastic piece of furniture. Done in teak and wood. Full with great architecture for interiors. Live style of great New York and London. We offer that chair for museums and collectors. From 1950 and authentic. Very nice chair and sofa set for selling in our P! Galerie. you can buy that thing in our showroom. Rare collector piece. It is worth to have a beautiful leather committee chair in all colors. Together with Le Corbusier they make a story of big India surprise. University style of value. An Interview with the famous collection of selection for design shape. Designer Pierre Jeanneret did it great. Offerd by architect for fantastic architecture. It is a thing you get in London and New York. Los Angeles together with nice tables and rare file racks. Storage rooms of cabinets and of Charlotte Perriand. Jean Prouvé did often that. By selling it to you a nice and rich space of living room and sofas can get here. A view of a house with film of Chandigarh. Low chairs of soft pads. We are the gallery owner of art fro artists. We are at Miami Art Basel. Sofa of soft material, done by Jean Prouvé and the Paris workshop. An alternative option for raw shapes and nice textures. Buildings like villa savoye and the word globalisation of pleasure. Max Bill has done a book about that kind of intelligence. Reporting good things and small results. Committee Chair with wonderful PJ-SI-30-A.
Committee chair of pierre jeannneret
ierre Jeanneret was an interior designer and architect. He was a Swiss architect. He worked in many countries, including India. His works in India are remarkable. He constructed numerous buildings and furniture in India. He worked in Chandigarh with his cousin. His cousin Le Corbusier was an architect. They worked for twenty years and recreated Chandigarh furniture. The Pierre Jeanneret furniture collection is huge. It caters to every target space. From the office to homes they have it all covered. The Pierre Jeanneret office chairs collection is beautiful. A masterpiece of that collection is the senate chair. The upholstered armchair is an antique from the 20th century.
The Pierre Jeanneret committee chair is Chandigarh furniture. The designer saw it in high court Chandigarh. Jeanneret redesigned the Assembly Chandigarh furniture. The recreation of the committee chair involved a change in materials. Pierre Jeanneret used lighter materials in his designs. These lighter and reliable materials made his furniture famous. The design is from the 1950s. This is the reason why it is rare and antique. This rare designer furniture is for sale in the art galleries. The art galleries across the world conduct design auctions for it. Those interested in bidding their prices on this senate chair.
The Design
This high court Chandigarh chair is an upholstered armchair. It is a composition of various elements. The main component of this chair is solid teak. Teak is comparatively lighter material than other plywood. This plywood is resistant to bug and other infestations. Teak wood is a sturdy plywood ideal for building strong furniture. Solid teak wood makes the furniture long-lasting. Jeanneret uses teak in his designs to make it timeless. Another important element of the Assembly Chandigarh chair is upholstery. The upholstery is customizable in Jeanneret's designs. There are many options available for customers. The designer has options of leather and hides upholstery for the chair.
The Pierre Jeanneret senate chair is a set of twelve chairs. It is available for sale in pairs. This committee chair is ideal for office spaces. The structure of the chair is formal and up straight. The chair has two pairs of compass type wooden legs. These teak V-shaped legs lay a strong foundation for the chair. The cushioned seating and backrest add comfort for the user. The slight leaning backrest adds relaxation for the user. This facilitates better work efficiency. This committee chair is rare designer furniture by Jeanneret.