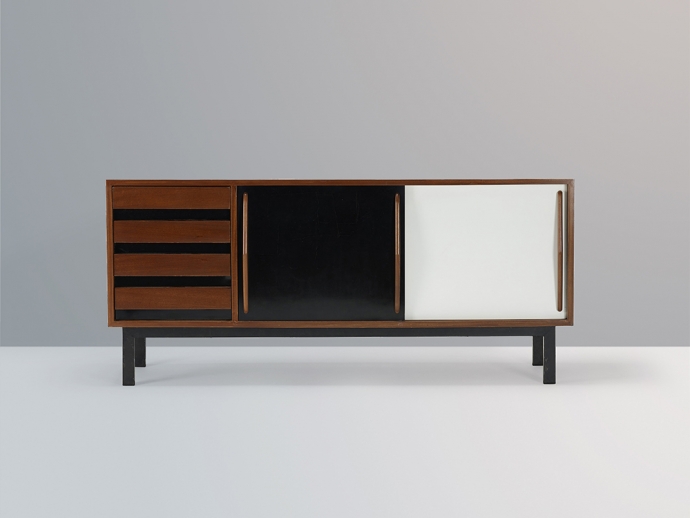 CP-SIDEBOARD
サイドボード、カンサド(モーリタニア)のためにGalerie Steph Simonで制作、1958年頃
価格:
ご相談に応じます
寸法:
1580mm x 470mm x 710mm
素材:
マホガニー(リボン杢)、エナメルスチールC
harlotte Perriand was a great designer of her times. The Charlotte Perriand Cansado is classic furniture. The furniture design is classy and modern. Perriand's work is unique and innovative. She was a designer who believed in building functional living spaces. Dwelling furniture designs occupy such spaces. Charlotte Perriand was a French architect and designer. She has worked with Pierre Jeanneret for a long time. Perriand worked with Le Corbusier for many exhibitions. She specialized in interiors. Her designs are outstanding which makes her a renowned designer.
The Cansado sideboard composes of innovative elements. The elements used for this Cansado sideboard are light but strong. Perriand specialized in furniture designs. She made her designs innovative. Perriand's rare furniture designs make her unique. This sideboard is one such timeless piece. The Cansado sideboard has various attributes. The Charlotte Perriand Cansado is standard. This sideboard can serve as a perfect accessory to bedroom. The sideboard is quite versatile. So it can enhance any space with its presence. Art galleries and portals provide this Mid-century sideboard for sale.
The Charlotte Perriand Cansado is a timeless furniture piece. Ribbon mahogany, laminates, and enameled steel are the main sideboard components. The Cansado sideboard is proportionately divided into three sections. Each section is built of different element on the outside. The first section is built from a ribbon mahogany wood. The design is put up creatively on the outside to add texture. The mahogany wood protects the furniture from bugs and other infestations. Second section of this design furniture is laminate. White laminate sheets bring in brightness to the room. The Cansado sideboard stands out with this laminate sheet.
Lastly, the third section of the sideboard is of enameled steel. The steel adds sturdiness to the furniture. Enameled steel is lighter in weight and cost effective. Moreover, the Charlotte Perriand Cansado stays intact with the steel element. Therefore, these elements of the sideboard make it rare and iconic. Charlotte Perriand Cansado is a mix of both modern and antique furniture. It is antique because the design dates back to 1958. But, there is a beautiful modern touch given by the designer. This mid-century sideboard can light up any space in the house. It is useful and suitable for public and private spaces.
サイドボード、ペリアン、カンサド